RESCAZ Simulation Training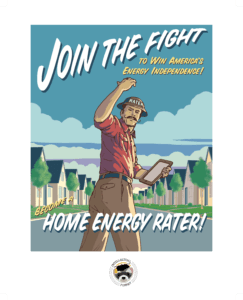 Maybe you're here because your boss told you to be here.
Maybe you're here because you decided it was time for a change.
Maybe you're here because there's not another website that offers what we do.
Don't waste your time – or money
You see, the RESCAZ Simulation is the only RESNET-required exam for Rating Field Inspectors, and one of the three required exams to become a HERS© Rater.
This exam is designed to prepare candidates for completing Combustion Appliance Zone (CAZ) testing, specifically required for ENERGY STAR™️ inspections. Sadly, there's a wide gulf between the simulation exam and reality.
Ignoring the quality-of-life elements in the simulation, like teleporting between locations, you can find a variety of odd situations that affect your simulation. Walking down stairs can cause pressure readings to get stuck. You can try to measure carbon monoxide (CO), only for the in-simulation form to fail to record your result. You get a gas leak…but instead of ending the simulation, you keep inspecting the house.
If it's a video game, why would you treat it like real life?
I've personally gone through this simulation at least 700 times since it was first created. Every scenario, equipment configuration, and equipment type. I've dealt with bugs that could cause seizures. I've banged my head on every (virtual) door frame. I've even tried to complete the simulation following the official RESNET training guide.
I decided to throw the "treat it like real life" approach out the window.
After I did that, well, my results were remarkable. I was able to develop a repeatable process that helped me beat the game. Every. Time.
Save yourself from headaches…
I've trained hundreds of candidates in this process. From small, independent inspection companies to the largest rating companies in the country.
You know what the results are?
We have over a 90% first time pass rate when proctoring this exam.
Over 90% pass rate, including glitch-induced failures.
Over 90% pass rate, including people who refused to follow our process.
Do you know what the main cause of failures are when we've proctored this test?
When candidates follow the official RESNET training. No, I'm not joking.
Make your money count
It's time-consuming earning certifications. It's expensive, too.
So make your investment in time – and money – worth it.
Don't bother with third-rate training programs. Don't bother trying to follow the process RESNET produced.
It'll only set you back. It'll make you spend more time. It'll make you spend more money.
And don't forget: we're the only training provider that offers this training 24/7/365, do-at-your-own-pace with a 30 Day Money back guarantee.