This HERS Rater Training will prepare candidates to take the required RESNET exams and covers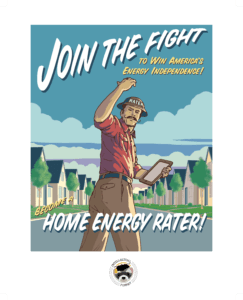 subject matter ranging from building science to business operations. We use innovative training techniques to create the highest level of knowledge transfer for our students, resulting in a much higher than average pass rate on the National Exam. The course is delivered during five days and includes both lecture and field instruction. Exams will be during the second week over three days. A background in construction, engineering or inspections is recommended, but not required.
The least expensive way to become a great Rater is to be trained by a great Trainer!
Week 1  Classroom discussion & Field training. April 17-21st, 2017, Monday-Friday.
Week 2  Final exam preparation and completion. April 24-28th, 2017, Monday-Friday.
Once you complete this class, you will be:
A probationary HERS Rater
CAZ certified
ENERGY STAR v3 certified
The cost is $2,999.99 for all the training, test preparation, and proctoring of exams.
What you will need:
Laptop computer:

Running Windows XP or higher, with USB port and wireless internet capability (Wi-Fi or broadband)
Running Mac OS, with USB port and wireless internet capability (Wi-Fi or broadband)

USB jump drive
Calculator
35' tape measure
Hard hat
Architects scale
Pen or pencil
Notepad
Flashlight
Compass to determine direction
Headphones
Motivation to learn
Call us today at 423-838-5095 to sign-up!
Can't make it to our live workshop? Check out our online HERS Rater training!